April 1, 2012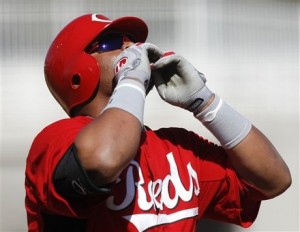 The Cincinnati Reds today made a roster cut of sorts when they traded third baseman and slugger Juan Francisco to the Atlanta Braves for right-handed pitcher J. J. Hoover.
Francisco has always had prodigious power, but had a Wily Mo Peña air about him. Tons of power and talent with almost no way of ever achieving it.
In his report on the trade, John Fay also touched on how he didn't exactly impress the Reds in Spring Training this year.
Francisco was out of options and the Reds were out of patience with him. He came to camp overweight and had not rehabbed from a calf injury to the club's satisfaction.

"Some of the things weren't working out the way you want them to," Reds manager Dusty Baker said. "Hopefully, he'll find happiness and get it together in Atlanta. If things go right and go in the proper direction, he could be a force."
Hoover gives the Reds more pitching depth, as he's a player with options and both starting and relieving experience. John Sickels wrote a profile on him last year that rated his ceiling as a third or fourth starter.
Hoover has the four classic pitches: fastball, curveball, slider, changeup. His heater is a tick above average in the low 90s, but works well due to the contrast with his secondary pitches. All three of his non-fastball offerings are rated as solid major league average. Although he doesn't have a genuine plus pitch, none of them are weak, arsenal is diverse, he mixes them well, throws strikes, and has been extremely durable in his career.
That reminds me a lot of Sam LeCure.
For most teams, Hoover would profile as a solid number three or four starter, chewing up innings at a good clip with consistent performance. But the Braves see Hoover's path to the majors as clearing more quickly in the bullpen, and it is hard to argue with the results so far: he's been outstanding in that role in Triple-A.
Hoover will be reporting to the Reds' AAA affiliate, Louisville, but there was no word on what role the Reds will use him in. Regardless, he adds to the team's depth in the pitching department, which is something you can never have enough of. If you doubt that, just look at the 2011 Reds.
As for Francisco, it'll be interesting to see if his change of scenery helps at all. He should have some opportunity's with the Braves' third basemen out for a little while with injury. Of course, that change of scenery thing never really helped Wily Mo.