April 17, 2012
Word around the blogsphere is that Todd Frazier hopped a plane to St. Louis this morning where the Cincinnati Reds are about to take on the Cardinals for the second time already this short season.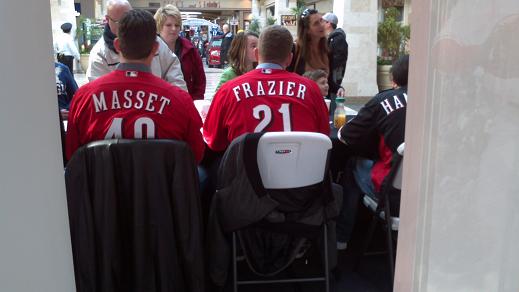 As you may recall, Frazier tore it up in spring training but was a last-minute drop from the roster. His spot was taken shortly thereafter by Alfredo Simon, whom the Reds picked up off waivers from the Orioles. Though Simon took the roster spot, it's sort of hard to really compare the two, since Frazier is an infielder and Simon is a pitcher (or so he claims: early results have not yet confirmed that this theory).
Miguel Cairo has been hurting for a few days, so Frazier might be coming to town to fill in while Cairo does his thing on the DL. Less likely but also possible that Brandon Phillips is the one going on the DL, still being obviously gimpy in the hamstring region after suffering a leg cramp while rounding the bases a few days ago. Least likely of all, Frazier's just in town to enjoy a lovely bottle of Vignoles. I know it's a favorite of mine whenever I'm in the area.
Assuming Frazier does take the field during this series, he'll need to re-discover his spring training fire. He was hitting .291 in spring training but only .231 since opening the season in AAA, probably due largely to being seriously ticked off about what the Reds did to him. The good news is that he already has as many home runs this season as anyone else on the team who isn't named Jay Bruce, so maybe Cincinnati can finally overcome a little of its power outage.