April 25, 2012
| Team | 1 | 2 | 3 | 4 | 5 | 6 | 7 | 8 | 9 | R | H | E |
| --- | --- | --- | --- | --- | --- | --- | --- | --- | --- | --- | --- | --- |
| Giants (9-8) | 0 | 0 | 0 | 0 | 0 | 0 | 0 | 0 | 2 | 2 | 6 | 0 |
| Reds (8-9) | 2 | 0 | 0 | 0 | 0 | 0 | 6 | 1 | 0 | 9 | 11 | 0 |
W: Latos (1-2) L: Cain (1-1)
The march to .500 continues!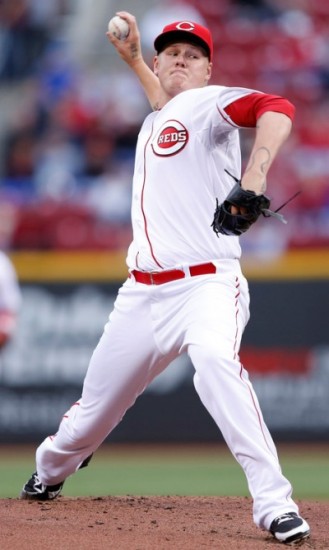 Apparently, all the Cincinnati Reds' offense really needed was a weekend trip to the friendly confines of Chicago. Now, they're ready to take on awesome pitchers like Matt Cain and make them beg for mercy. Or at least run up their pitch count and send them running from the mound.
The Reds got the scoring started against the San Francisco Giants in the very first inning. Drew Stubbs doubled and Brandon Phillips drove him in with a two-run home run.
After that, it was a pitcher's duel, with Mat Latos showing off the skills that enticed the Reds to trade for him. And this time he even made it through the 5th inning! His final stats: 7 innings, 4 hits, 2 walks, 3 strikeouts, and 0 runs. Latos unlocked the code in terms of how to prevent getting a loss with this previously AWOL offense: don't allow any runs. You may not get a win doing that, but you surely won't get a loss.
But getting his elusive first win was no problem for Latos and the Reds tonight. In the 7th inning, Ryan Ludwick knocked Giants starter Matt Cain out of the game with a solo homer. The Giants bullpen came in and failed to find the strike zone. With the bases loaded, Brandon Phillips walked. Next, Jay Bruce hit a beautiful line-drive down the right field line to score a couple. And old-man Scott Rolen hit a double to drive in a couple of his own.
The 7th saw the Reds send 10 batters to the plate and score 6 runs. And that was pretty much the end. The Giants did score a couple in the 9th, but that was somewhat due to an old-fashioned bean-ball battle. Votto had been hit during the 7th, and Sam LeCure threw at Pablo Sandoval in the 9th. Both teams were then warned not to do it again, but there really is no better time to proteect your slugger than in the bottom of the 9th with 1 out and ahead by 9 runs.
All in all, it was a great game, for me as a fan and probably even more for the Reds players. The offensive explosion felt long overdue.
Game 2 of the series against the Giants is tonight at 7:10pm. Bronson Arroyo will start against Barry Zito.