July 1, 2012
today's announcement of the 2012 All Star roster
, the Reds and Dusty are angry again.
Johnny Cueto and Brandon Phillips were not selected for the team, leaving many to believe it's leftover bad feelings from the 2010 Cardinals-Reds brawl. Both Cueto and Phillips were primary players involved, and LaRussa, who gets to pick players thanks to winning the National League pennant last year, picked neither.
"I'm happy for the guys who made it big time, especially for Chapman," Baker said. "You figured that Joey would make it. We knew Jay had an outside chance. You also figured that Johnny Cueto and Brandon Phillips had a great chance. I don't understand that one.

"A snub like that looks bad. Johnny and Brandon were at the center of skirmish between us and the Cardinals. Some of Cardinals who aren't there anymore are making some of the selections."

Baker knew the media would play up his comments.

"Maybe they should," he said.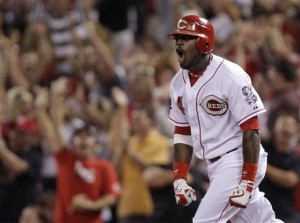 Cueto is 5th in the league in ERA, 2.26, and leads the league over the last two years. Phillips is batting .288 with 10 home runs and has a lengthy highlight reel.
It wasn't only Baker who was upset. Votto, who was voted in for the first time, wasn't happy either.
"It's kind of difficult to be overly happy today, considering the two guys I thought were shoo-ins aren't going to be on the team," he said. "That's frustrating. I knew I was going to be an All-Star. I was hoping those two guys, the five of us, would go to Kansas City. As much as I don't want to get into pissing contest right now, as happy as I am for myself and Jay, I'm disappointed for the two guys who are very, very meaningful to this first-place ballclub."
Phillips hasn't commented, so far, but Cueto didn't mince words, throwing in a nice insult to LaRussa.
"I thought the way I pitched this year, I'd have a chance to go to the All-Star Game. I don't know what happened. I don't if know the manager of All-Star Game is pissed at me because I went out with one of his girlfriends."

I'm surprised Cueto didn't make fun of LaRussa for his DUI, but I like the insult.
Before the roster was announced, most people were wondering if Cueto would start the game–he can't because of when his spot in the rotation falls–but to not be included is quite a surprise.
Tony LaRussa has retired from managing the Cardinals, but he's clearly not retired from being a jackass.
It's been long known that Cincinnati Reds manager Dusty Baker has no love lost for former St. Louis Cardinals manager Tony LaRussa. With