October 15, 2012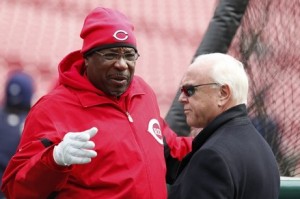 No sooner do I put up a post suggesting that the Reds and Dusty Baker should part ways for the sake of his health than the Reds announce they've re-upped for another two years.
The timing of this announcement is not well thought out. People are still pretty pissed off at Baker and the Reds in general. Hearing "2 more years of the same!" is a message that will sound pretty good in a few months, but just makes my head want to explode right now.
And I pray he doesn't really die of a stroke on the field next season.
Here's the press release:
The National League Central Division champion Cincinnati Reds and field manager Dusty Baker have agreed to terms on a 2-year contract extension through the 2014 season.

The formal announcement will be made today at a 3:00 p.m. press conference at Great American Ball Park by Reds President and Chief Executive Officer Bob Castellini and President of Baseball Operations and General Manager Walt Jocketty.

"In Dusty's five seasons here he's taken us to the Postseason twice and has proven he can lead our teams to championship-caliber play on the field," Castellini said. "He's the right manager to continue the building process that will take us deeper and deeper into the playoffs in the future."

Baker, 63, in October 2007 originally was signed by the Reds to a 3-year contract through the 2010 season, then in October 2010 received a 2-year contract extension through 2012.

The 2012 National League Manager of the Year candidate led the Reds to the playoffs twice in the last 3 years to become only the third skipper to lead the club to the Postseason more than once (Bill McKechnie, 1939, '40; Sparky Anderson, 1970, '72, '73, '75, '76). The Reds' 97-65 record in 2012 was the second-best in the Major Leagues.

He is 419-391 (.517) in 5 seasons with the Reds and 1,581-1,432 (.525) in a 19-year Major League career that includes 5 division championships with 3 teams, including the San Francisco Giants (1997, 2000), Chicago Cubs (2003) and Reds (2010, 2012). He ranks 19th on Major League Baseball's all-time victories list and ranks sixth in wins in franchise history.

Baker already has been named NL Manager of the Year 3 times by the BBWAA, twice by The Sporting News and once by The Associated Press. He also finished second twice, including in 2010 by a single voting point.