August 26, 2005
PITTSBURGH, PA -- Aaron Holbert, the 32-year old who took Ryan Freel's place on the Cincinnati roster last week when Freel went on the disabled list, got his first major league hit tonight at the Pirates' PNC Park.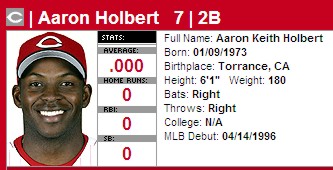 The Reds were quick to retrieve the ball on Holbert's behalf. The bench wanted to make sure he had the souvenir, but they also apparently needed the ball to prove to Holbert that the hit had finally happened.
"At his age, sometimes he doesn't remember things," explained Reds third-baseman Edwin Encarnación.
Holbert recently became the Reds' hottest human-interest feature when he was called up nine-and-a-half years after his only previous major league stint. Holbert has been the poster child for patience and perseverance and an inspiration for his teammates.
"Yeah, Pops is really an inspiration," said right fielder Austin Kearns. "It just goes to show that if you wait around long enough, and play on bad enough minor league teams, someone's bound to feel sorry for you eventually."
Another noteworthy hit in tonight's game came from Aaron Harang, who broke an 0-for-49 hit draught when he singled in Adam Dunn to score the first run of the game.
"So many people made this big deal about me not getting a hit," said Harang. "But it's not like it took me 32 years or anything. Besides I'm a pitcher. It's not like I'm a pinch hitter going up there."
Does a guy who doesn't get his first major league hit until he's 32 get a hard time from his teammates after the game?
"Of course not," said center fielder Ken Griffey, Jr. as he walked past carrying a dozen eggs, a can of shaving cream, and a large wooden spoon. "We'll just say congratulations and politely ask him not to wait so long for the next one."