August 30, 2005
The Reds ended their four-game winning streak tonight when the offense failed to make an appearance. Apparently a man named "Wandy" is more intimidating than I would have thought. The spectacle resulted in a 2-5 loss to the Astros that knocked the Reds back into sharing fourth place with the Cubs. The Cubs' win a few minutes later knocked the Reds all the way back to fifth.
Though the Reds managed to score first in the fifth inning when Adam Dunn doubled in Sean Casey, the Astros came back in the bottom of the inning. Ramón Ortiz allowed small hits to get in the Astros first run, a medium sac fly to get in the go-ahead run, and a super-gulp three-run homer by Morgan Ensberg to give the Astros of their score for the rest of the game.
In the top of the ninth, Brad Lidge got into an uncharacteristic jam when he loaded the bases with Valentín coming up with one out. Surprisingly, though, Javy did not hit the grand slam, but instead grounded out to second and plated the Reds last run of the night.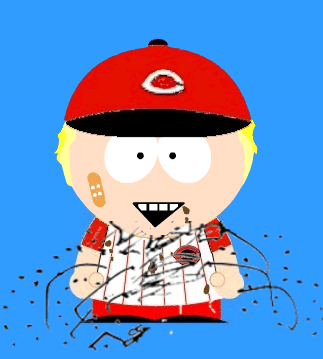 Well, that's just depressing. I think I'll post my Freel South Park character after all, since we could all use a chuckle.
Tomorrow, Brandon "Pickle Man" Claussen takes on Andy Pettitte. Here's hoping "Andy" is less intimidating than "Wandy" and the bats show up.
Go Reds.