January 15, 2007
I bet you forgot I was doing these. Yeah, me too.
October
The Cubs started out the month by cutting ties with their manager. There are certainly those in Redsland who were sad to see Dusty go, and even more who wished the Reds had followed suit. They would go on to hire Lou Piniella later in the month, so we'll have that to look forward to.
October was the month that Pete Rose appeared on Letterman. Always a treat to see Pete talk in public.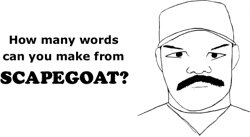 After a nonexistent broadcaster search, the Reds hired Thom Brennaman.
The rumors began flying about Rich Aurilia not returning to the Reds. Of course, the rumors turned out to be right. Thankfully, I got him on the podcast and found out about his ringtones before he left.
I was on t.v. to talk about the Reds. I've still never actually seen this myself, but I know that at least a few people did because they e-mailed me and said so. I was so excited, that I found a bunch of Reds' celebrity matches.
The Reds fired Chris Chambliss, probably because Krivsky hates offense.
Former Red Cory Lidle was killed when the plane he was piloting crashed into a New York apartment building. In light of this event, a certain Yankee Christmas ornament seemed sorta inappropriate.
The Cards won the World Series. Who the heck would have figured?
I did that thing I sometimes do when I don't just rehash old material but actually write something new. This time it was about why moneyball isn't money.