April 22, 2007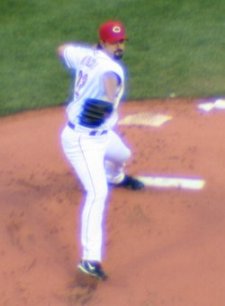 The Reds were unable to take advantage of a good start by Eric Milton yesterday when they fell to the Phillies 4-1.
I think that pretty much everyone expected the Reds to win this game. The fact is that we don't have faith in Milton. He was crummy in 2005, he was barely adequate in 2006, and he stunk up the joint in spring training. He's had weak legs, poor rubber position, and just plain old suckiness.
But this season, Milton has not been bad. Not dominating, but not bad. Last night was another example of those; he gave up three runs (two earned) on six hits through six innings. Even if all three of those runs had been earned, it would have been a quality start. He's rocking a 4.32 ERA and a 0-3 record.
But even if the error had not happened to allow that extra run, the offense wouldn't have been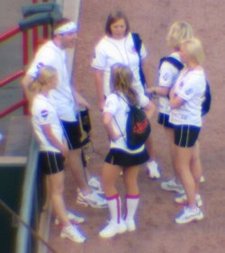 enough. Milton would have had to have been perfect, and so would have the bullpen. And that's simply asking too much. The rest of the pitcher to see time on the mound included Victor Santos, who gave up a solo shot on two hits in two innings, and Kirk Saarloos, who pitched a scoreless ninth.
Meanwhile, the Reds were sucking at the plate. Not that they never got anything going, but they couldn't string together enough things to ever cross the plate. They struck out 15 times. Only Edwin Encarnación had more than one hit: 2-for-4 on the night. Only Jeff Conine had an RBI on a solo shot in the second. On the positive side, the Conine home run did win a woman at GABP pizza for a year from the Snappy Tomato, so you've got to like that. David Ross grounded in a 5-4-3 triple play. Not just a triple play, but a routine-looking triple play. It was as if someone had asked Ross to define the triple play for a textbook, and that's what he came up with.

The loss brings the Reds record to 9-9 and drops them to third in the NLC. They try to win the series from the Phillies today at 1:15 p.m. Matt Belisle goes up against Freddy Garcia.