March 21, 2010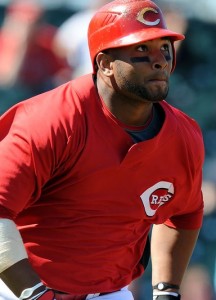 In four games this weekend, the Reds were outscored by their opponents 11-12, but surprisingly, the total number of runs scored over four games doesn't matter. Who knew? In fact, the team won 2, lost 1, and tied 1, making the weekend a pretty successful campaign.
They started off Friday with a 2-6 win over Seattle. Drew "look at me" Stubbs went 3-for-3 with an RBI and a run scored. Scott "keeping 3B warm" Rolen and Chris "I'm 25" Heisey knocked in a couple apiece with Laynce "superfluous Y" making it a nice round six runs. Aaron "what is this run support of which you speak" Harang was the guy starting on the mound. He struck out six in five innings.
Saturday was hang-over day, though, with the Reds falling 0-6 to the Giants. Probably the team was thrown off by the fact that the game was televised on a one-hour delay, making any attempts to live-blog the game from the broadcast utterly irrelevant. There was no offense to speak of, unless you count Joey Votto going 1-for-1 with a walk, and there really wasn't any pitching to speak of either. Travis Wood started and gave up three runs (two earned) on three hits and two walks. He struck out four.
Today was the split squad day. Half the team took on Oakland and beat them 4-3. The other half hosted the Cubs and took them to a 1-1 tie in 10 innings.
Chris Dickerson, Jay Bruce, and Jonny Gomes contributed one RBI apiece in the away game, and the A's only earned three runs, so that fourth one must have been earned by hitting the "Hit the ball here and get an extra run!" billboard down the right field line. Johnny Cueto took the mound for the Reds and lasted four innings, allowing one run (earned) on two hits and three walks. He struck out four.
The home team's one run was knocked in by Nix. Justin Lehr started for the team and gave up the one run.
Tomorrow, the Reds host the Rockies at 4:05 p.m. It's supposed to be on Fox Sports Ohio and MLB Network, though I'm not remotely prepared to guess what time it'll appear on the MLBN.