Last Game
The Reds had yesterday off to make the trip home, but there was still a game of some interest to the Reds happening. The Cardinals hosted the Nationals for game two of their series. The Cardinals do not have the home-field advantage and had squandered their first chance in front of the "best fans in baseball" so it was particularly urgent to them to get the second game in the win column.
Jaime Garcia started for the Cardinals but only went 2 innings due to arm problems. He underwent an MRI tonight, and the team will make a statement about the results tomorrow. I doubt they'll tell us that they're big freaking copycat fakers, but I wouldn't be surprised if the MRI had some mysterious shadows on it that made it hard to see.
Five relievers finished off the game, including 3 innings from Lance Lynn. But it wasn't about the pitching for the Cardinals; they gave up 4 runs to the Nats. Fortunately, the offense came through with slightly more than that–3 times more than that to be precise.
Now, normally we at RHM aren't big St. Louis fans, but we love a turn of events that ensures no fewer than 4 games will be played by the team that will be facing the Reds next. Now I'm just hoping they can manage a few extra innings in the next couple games.
Next Game
Tonight Homer Bailey pitches at home for the first time since his no-hitter. We've all seen how much better Bailey is away than he is at home, but I'm hopeful that his confidence is high as is the team's momentum and all that fear of giving up the long ball won't inhibit his inner awesomeness.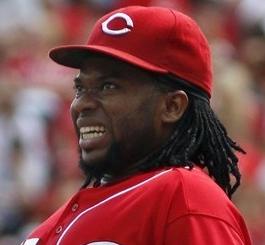 A Game 4 Means More than Extra Beer Sales
Also, getting this series over with today would be good for another reason: it would save Johnny Cueto from having to pitch until the next round and give him the maximum amount of time to rest up before then.
Unless you've been living in a cave, you know that Cueto came out of game one in the first inning with back spasms. The team rallied and won it anyway, thanks in large part to Mat Latos coming in on short rest to save the day. And if you *have* been living in a cave, that comment about the Cardinals being copycat fakers probably didn't make sense until just now.
The Reds aren't willing to say that Cueto is ready to come back to pitch a possible game 4, just that they're "cautiously optimistic." They've also said that they'll do what's best for the man and hope it jibes with what's best for the team.
Cueto can be replaced on the roster by another pitcher, but if that happens, he becomes ineligible to pitch in the next series. They could replace someone else on the roster, I guess, but whom would they bring in? It would have to be Mike Leake, and I think Mat Latos on short rest again would be better than that.
What to Say to Sound Smart at the Water Cooler
According to Elias Sports Bureau, since the division series began in 1995, 42 teams have gotten off to 2-0 starts. Of those, 38 advanced to the next round.