October 9, 2012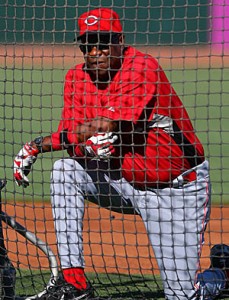 After yesterday's workout at Great American Ball Park in Cincinnati, manager Dusty Baker and game 3 starter Homer Bailey both sat down to answer questions from the assembled media.
Dusty Baker
Baker went first, and the topic turned, of course, to injured ace Johnny Cueto. Baker was optimistic, but was clear in placing the health of Cueto ahead of the team's desire to win.
"We're going to do what's best for him. I just hope that's good for us, too."
The growth of Brandon Phillips as a leader during Baker's tenure was touched on, as well. I remember when Baker came to the team, there were often instances of Phillips loafing and not running hard to first. I remember one instance where Phillips not running hard out of the box turned what would have been a double into a single.
But the "B" is the "B." I've seen him grow big time since I've been here. When I first got here I was having to spank him once a month, do you know what I mean? Now it's probably once every three months.
Phillips has grown a lot, as has Baker. He's a much better manager now than he was with the Chicago Cubs and when he arrived in Cincinnati. There's a lot more to tide you over until today's game and distract you from working here.
Homer Bailey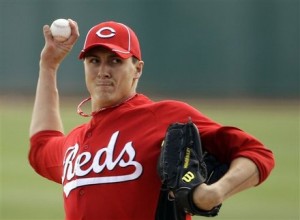 Bailey also faced the press and fielded questions about his start of game three this evening, including when he learned he would be moved up one game.
"I found out about the middle of the first game. After that I asked if I could fly home early so I wasn't quite as jet lagged. Actually worked out good. I threw a regular bullpen that day and stayed on my regular rest anyways, so no excuses, right?"
I like the confidence. After the gutsy performances by both Mat Latos and Bronson Arroyo, tonight it will be Bailey's turn. If he turns in a comparable performance, the Reds are likely advancing to the next round. What is Bailey's strategy?
"Try to get strike one hitter on Angel Pagan and then we'll go from there. That's what I'm thinking."
I like that plan. If he wants to throw another no-hitter, I'll be on board, too. You can read the rest of the interview here.