Last Game
Homer Bailey was great in game 3 of the NLDS series with the Giants, but the Reds failed to give him the run support he would have needed for the sweep. They ended up losing in 10 innings, 2-1.
Bailey struck out 10 in his 7.0 innings of work. Even though he earned a run thanks to a hit-by-pitch and sac fly, he actually had a no-hitter going in the sixth. He was well short of 100 pitches when they pulled him, but that makes sense with a well-rested bullpen.
So on came the closers. Sean Marshall struck out 1 in the eighth. Aroldis Chapman struck out 2 in the ninth. Jonathan Broxton struck out 3 in the tenth, but not before he gave up up 2 hits and the run that would turn out to be the game-winner.
Next Game
Game 4 is at 4 p.m. in Great American Ball Park. Barry Zito will be pitching for the Giants. And that's all we know.
Dusty Baker isn't prepared to say who's pitching for the Reds. The options are:
Johnny Cueto, if his oblique is feeling better. The official word is still day-to-day, but rumors are floating that Cueto actually has a mild strain (not just a spasm) which is the same injury that had Zack Cozart out for a month.
Mat Latos, who would be going again on short rest. Again, the team isn't saying it, but the scuttlebutt is that Latos has the dreaded flu-like symptoms.
the bullpen.
Mike Leake, but another pitcher would have to be taken off the roster to make room for him, and that person would be ineligible for the NLCS series, should the Reds make it that far.
In a post-game conference, Homer Bailey said that Mike Leake is starting tomorrow as if it were common knowledge. He also said "shitty" on t.v. Tee-hee.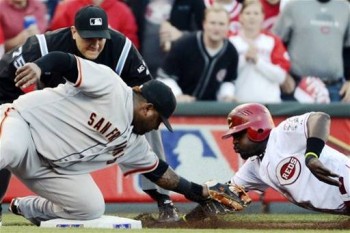 So Many Chances
The Reds lost last night, but it wasn't for lack of chances. Several people made blunders that probably had them kicking themselves. That list includes, but is not limited to:
Brandon Phillips getting caught stealing in the first inning. Had he just held his position at second base, he would have been knocked in by Ryan Ludwick, plus Scott Rolen's strike out wouldn't have been the one to end the inning.
With 2 on and 2 out in the tenth inning and Joaquin Arias at the plate, Ryan Hanigan let a ball get past him, which put Buster Posey on third.
Later in that same at-bat, Arias hit a grounder to Rolen, which he bobbled. Rolen couldn't get the ball to first in time to get Arias out, so it counted when Posey crossed the plate.
That's not all, of course. Bailey might have beat himself up over the HBP or Broxton might have been unable to sleep thinking about what he might have pitched differently.
The great thing about this team, though, is that while guys might be putting the pressure on themselves, you know they aren't pointing the fingers at each other. As a group, they'd put this loss behind them before they left the part and are ready for today. On the bright side, they get an extra NLDS game to hear all of Cincinnati cheering for them.
What to Say to Sound Smart at the Water Cooler
Today we have another tidbit from everyone's favorite source of baseball history trivia, Elias Sports Bureau. They say that Dusty Baker (who managed the Giants to the World Series in 2002) is only the third manager in MLB history to face a team in a postseason game that he previously led to the World Series.
The other two were 1) Joe McCarthy, who faced the Cubs as the manager of the Yankees in 1932 and 1938, and 2) Billy Martin, who managed the A's against the Yankees in 1981.