May 19, 2005
Great news! In a blinding flash of brilliance this afternoon, I was suddenly hit with a sure-fire plan for how the Reds can turn it around. First, they draw numbers from a hat, and then one by one, in numerical order, they each eat a hard-boiled egg and drink a green beer. After that, they…hey, wait a minute. Didn't I promise I was going to use this off-day to finally talk about the Mother's Day present I received this year?
I guess that's what I'd better do then. The rest of the plan is pretty self-evident anyway.
After the 17.5 hours of overnight travel from Seattle that included only 2.5 hours of sleeping, I was finally home. Fatigued though I was, Jon presented me with a very large gift, about two feet by three feet, flat, and wrapped in solid red wrapping paper.
I tore open the paper to find the shirt I'd gotten autographed at spring training, as described in the spring training entry of the March 29 game against the Yankees. Jon had found a frame and gotten a baseball card to add. We are afraid to wash the shirt, because it's signed on the vinyl, but Jon did iron the shirt all by himself. Now that is love.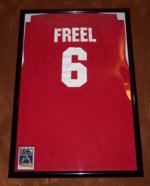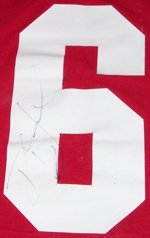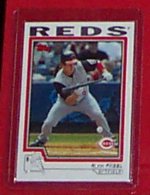 This was more than just a cool souvenir; this was a memento of a moment in time. Four scenes in my life are etched permanently into my memory. They are the times when I jolted awake from my usual numb roving through life to find myself in the midst of the startling realization that I was truly and utterly happy.
The first one was when I was 11, sitting alone on a hill overlooking the scintillating surface of the lake at summer camp. The second was when I was 22, right after we'd moved into our house, at my computer next to the open window that was admitting the gentle, lilac-scented breeze. The third occurred simply enough on my sofa less than a year later; I was three months pregnant and looking for a job.
But the most recent is the happiest and most haunting of all: suddenly opening my eyes to find myself in the cool evening air on the hard bleachers of Ed Smith Stadium, a Reds victory unfolding before me, surrounded by my dear husband, our sweet, perfect son, and the dying applause that I myself had started.
So, even though the Reds are no fun to watch right now, you'll understand that I am going to hang in there with them. After all, through almost no fault of their own, they are enduringly intertwined with the single happiest moment in my life.
And you never know; once they institute my great plan, maybe they'll be there for the fifth moment, too.