February 16, 2011
Today was the first workout for all of the Cincinnati Reds pitchers and catchers. And as evidence, John Fay has a picture of them stretching.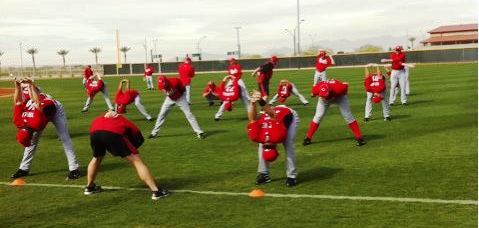 Fay also had the chance to talk to Reds manager Dusty Baker about the starting rotation. Unlike in years past, there won't be a huge audition for roles.
Dusty Baker said the Reds will only get "seven or eight" pitchers ready as starters.

"That's early," Baker said. "Then you start cutting back once you decide. Health is a big issue here. You hope it doesn't come into play, but it usually does. The better shape they're in less chance for injury."
It sure is nice to have the days of the open casting call for the pitching staff be over. Those seven or eight pitchers Baker mentioned have to be Bronson Arroyo, Edinson Volquez, Johnny Cueto, Homer Bailey, Travis Wood, Mike Leake, Sam LeCure, and Matt Maloney. Any combination of those five is better than what the Reds have sent out for so long. It's so nice to have the opposite problem for a change.
In addition, Baker also mentioned Dontrelle Willis, who has looked good in early workouts so far. I'm not sure where the Dontrelle Train will lead, but if he could find an unopened bottle or two of that awesome-sauce he had earlier in his career, the Reds pitching glut problem would continue to be a happy problem.