February 16, 2011
At long last, the day has arrived: the Reds' pitchers and catchers have arrived at the spring training facility in Goodyear, Arizona. Baseball is upon us!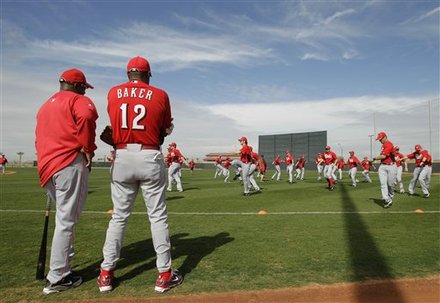 Like you, I wish I were taking my own photos of a view of the pitchers and catchers dancing slightly obscured by Dusty Baker's backside, but for now we'll have to be appreciative of the second-hand accounts offered by the Internets. Like this tidbit from John Fay:
Good morning from Goodyear, where it's a bone-chilling 51 degrees. Sorry, had to do it.
John, it was 57 today in Indianapolis. I drove home from work today with my coat discarded and forgotten in the other seat and the sunroof open. Apologize for a job that has you running around spring training camps instead of stressing out about software releases if you like–I know I certainly resent it–but the groundhog was right and there's no need to apologize for your 51.
Now let's get on with some baseball.