February 23, 2011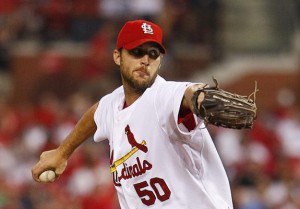 The big news of the day is not good news for the St. Louis Cardinals or, for that matter, Major League Baseball. Adam Wainwright injured his elbow and it's almost a certainty he will need Tommy John surgery and miss the entire 2011 season.
Wainwright had some twinges in his forearm at the end of last year, but managed to win 20 games. Just Monday when throwing some batting practice, though, he "suffered additional damage to his right ulnar collateral ligament." The Cardinals have always been reluctant to discuss details of injuries, but have been rather open about this one, with general manager John Mozeliak actually mentioning the likelihood of the ligament replacement surgery.
The MRI results are in, but Wainwright will be looking for a second opinion, as anyone in his position would. It sucks for him. And while it makes the National League central division a little easier for the Cincinnati Reds, I would really rather see the Reds defeat the Cardinals with both teams at full strength. Plus, I prefer seeing a strong division, as opposed to the one with only two good teams that 2010 brought us.
Those in favor of morbid coincidences should like this bit, though. Two weeks ago when discussing the joint issues he'd had at the end of 2010, Wainwright said, "My ligament is intact and strong. It's not like it's ready to pop." Famous last words.