February 23, 2011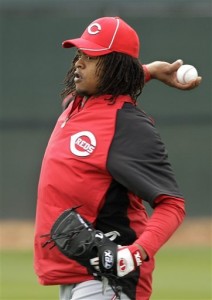 As was announced yesterday, Dusty Baker surprised everyone by naming Edinson Volquez as the Opening Day starter for the Cincinnati Reds.
I was surprised at the news because it seemed premature. No games have been played yet, after all. Of course, given the Reds cast of terrible, terrible pitchers they've had start the season over the years–I'm looking at you Jimmy Haynes and Joey Hamilton–that first pitcher isn't going to make or break the season. Plus, every starter on the team is better than those never-weres. Also, Baker had some excellent reasoning.
I did expect the other Reds fans to be upset about the pick.
So there you go. The Reds bloggers seem to have taken the news in stride. Color me surprised. And also, color me anxious for any baseball games to be played. Volquez starting Opening Day is too far away. But the first Spring Training game is less than a week away.