June 8, 2012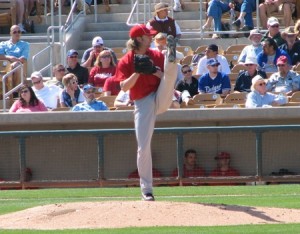 The Reds notebook today features an article that apparently gives Bronson Arroyo much of the credit for the Reds' starters' durability so far this year.
Bronson Arroyo has never missed a start in his life – Little League, high school, minors, majors. He thinks the young guys in the rotation, particularly Johnny Cueto and Homer Bailey, have noticed that his very regimented routine works.
It's true that the Reds have had a consistent rotation. They're 55 games into the season and it's been the same five guys taking their turn on the mound since the beginning. Only three other teams in the majors can make the same claim. But how much of a benefit is it?
The Reds have a 31-25 record and sit atop the NLC.
The Marlins have a 31-26 record and are unlucky enough to be in the NLE, where that gets them fourth.
The Cardinals have a 30-28 record and are tied for second in the NLC.
The Mariners are 26-33 and last in the ALW.
So the preliminary evidence is inconclusive on whether having a consistent rotation is important to performance. It makes the manager's job easier and lets the AAA guys have some more development time, but when it comes to the team's record, there isn't an obvious correlation between fewer starters and more wins.
I would also point out that the timing is a little wonky for the taking of credit. Arroyo says:
Consciously or subconsciously, they've seen what I've done over the years…They say, 'Hey, this guy makes all his starts.'…There's no doubt in my mind it's made them more consistent and allowed them to toe the rubber every fifth day.
Bronson Arroyo has been with the Reds since 2006
Homer Bailey has been with the team since 2007
Johnny Cueto has been with the team since 2008
It seems like if anyone starter was going to take credit for changes to the culture of the rotation, it'd be Mat Latos, since this is the year it changed and the year he arrived. On the other hand, maybe it just takes 4-5 years for Arroyo's magic to start to take its effect. He might also explain the 43 home runs the starters have already allowed this year.