June 7, 2012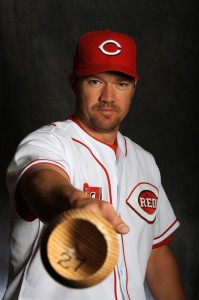 As RHM mentioned yesterday, Scott Rolen has started taking batting practice again and is apparently weeks, if not days, away from returning to major league action. And that has Redleg Nation worried.
Announcers Jim Kelch and Jeff Brantley turned to the news that Scott Rolen had taken batting practice earlier in the day. We're looking at days now, rather than weeks. Great! Right? I love watching Scott Rolen play baseball. Shouldn't I be looking forward to his return?
All reasonable fans of the Cincinnati Reds understand and appreciate how much Rolen has done for this team. He's a good guy, and without him, the Reds would not have won the division in 2010. No bout adoubt it. He willed the team into believing it could win. Bt not in that annoying, St. Louis Cardinals way. In a fun way, because it's a team we like.
| Player | Average | On-base | Slugging |
| --- | --- | --- | --- |
| Scott Rolen | .174 | .238 | .304 |
| Todd Frazier | .274 | .333 | .600 |
But Rolen hasn't been that player since 2010. And Redleg Nation is right. There's reason to dread the return of Scott Rolen, and that reason is Dusty Baker. Todd Frazier has won the third base starting job. The stats this year bear that out. But we all know how Baker will use Rolen and Frazier. Rolen's the veteran, after all.
But as Kelch and Brantley began to discuss Rolen's return, a feeling of queasiness crept through me. They didn't seem to consider, even for a second, that Frazier should continue to start at third base for the Reds. Instead, they talked about how he would be perfectly suited to replace Rolen on the veteran's regular days off. Were they kidding?

It doesn't matter what announcers (or bloggers) think. But, if Kelch and Brantley don't see Frazier as having earned the 3B job then, to a moral certainty, neither does Dusty Baker. And unfortunately, it does matter what he thinks.
It definitely does. Baker's a player's manager and will stand by guys he thinks deserve it long past the time their performance tells everyone else they don't. I like Rolen, and I'd love nothing more than for him to come back and contribute like he did in 2010. I've got to, for the Reds' chances in 2012 are likely to hinge on him.