June 20, 2012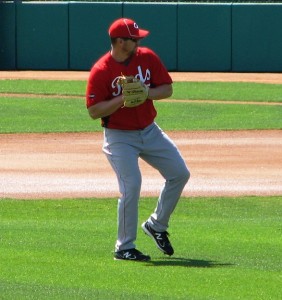 MLB columnist Anthony Castrovince has an article today on Scott Rolen. It reads almost like a eulogy to a career that isn't actually dead yet, but it highlights a lot of what makes Rolen so awesome:
He's down-to-earth – "I have a job, you know," he said. "That's the short answer, I guess. Having four surgeries and rehab, I don't like any of that. But I wasn't given a choice, necessarily. That's kind of where I am and what I'm doing. We're free to feel sorry for ourselves, and I do. But I have a job. I play baseball for the Cincinnati Reds, and I take it very seriously. I have a responsibility, an accountability to get myself in physical and mental shape and go to work."
He's in touch with reality – "I'm 100 percent of whatever I've got," Rolen said with a laugh. "That's about it. I don't know what that equates to [relative to] the rest of the league."
He knows there's more to life than baseball – "I feel like I'm more valuable," he said, "than just where my locker space is."
In my opinion, Scott Rolen has been a rare example of a "veteran presence" actually making a difference on a ball team. Especially when he first came around, the Reds were fielding a lot of young guys with more talent on the field than sense about how to comport themselves. I suspect he played a big part in shaping the grown-up team you see today. I think the Reds can't really give Joey Votto the captain's C while Rolen is still on the roster.
I don't want to add to the eulogy of Rolen's career, but I do think his best contributions have already been made. And they've been really important ones. I hope that the rest of his last contract year with the team is kind to the guy, and lets him go out on top like the class act that he is.