June 18, 2012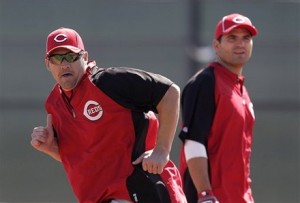 Veteran third baseman Scott Rolen has been penciled in to the line-up tonight for the first time since his stint on the 15-day disabled list that started 37 days ago on May 12. As of now, no corresponding roster moves have been announced, but I'd guess they'll option Negron.
Rolen's strained left shoulder is apparently feeling much better: he smacked a 3-run home run last night on rehab assignment with the AAA Louisville Bats. They were playing the Rochester Red Wings, who are truly, truly terrible, but it's still something to be hopeful about, since Rolen was hitting a big fat .174 when he got hurt.
Rolen's timing may be great or it may be really crappy. On the one hand, the Reds have been totally killing it lately. They're on a 6-game winning streak that ties their longest streak of the year. But does that mean that they're likely to keep it rollin' with Rolen, or that they're due for a loss at the hands of the already fired-up Derek Lowe and the Indians?
I'll point out this: the Reds are 9-13 in games where Rolen started at third base. Meanwhile, the Reds are 21-11 in games where Todd Frazier started at third. At least Todd Frazier isn't entirely the odd man out tonight, though. Since they're playing in an AL park, there's space for him on the line-up card under DH.