June 11, 2012
Put this one in the You Don't See That Every Day category: just moments after the final pitch of the Indian's 4-1 win over the Cardinals yesterday, Indians' closer Chris Perez vomited in the field. From the game wrap on Indians.com:
[Indians' manager Manny] Acta called on former Cardinal Chris Perez to close out the game. Perez recorded his American League leading 20th save. Immediately after getting a pat on the back from [catcher Carlos] Santana following the last out, Perez turned toward the outfield and threw up on the field. He didn't make it much further before going down to one knee and vomiting again.

"It's a hot day and when I came out to throw, I took a couple drinks of warm water and it didn't really sit well with my stomach," Perez said. "After I struck out [Daniel] Descalso it almost came up and when the game was over I just let it out. Nothing serious, I'm fine."
It's understandable: the Cardinals have made us all want to gag at some point or another. And what a nice consolation prize for the Cardinals, who were hosting the Indians last night. Maybe he'll autograph it for them.
The Indians come to Cincinnati for a visit tomorrow, and hopefully Perez is feeling better by then (or at least staying home sick, if that's the case). The World Famous Great American Ball Park grounds crew doesn't deserve that.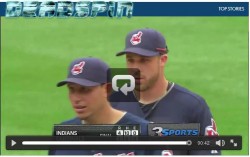 P.S. – Deadspin has video. The best part is how the vomit seems to take Perez entirely by surprise. No, the really best part is how the talking head just continues with closing out the broadcast, despite the fact that the vomit was actually caught on tape and the crowd of concerned teammates that were surrounding him by the end of the clip.
Even if the broadcaster wasn't looking at the screen, wasn't there anyone else in the booth to give him an elbow? Sort of a "hey buddy, hold off on the record and demonstrate a bit of human compassion to the guy losing his lunch in center." On the other hand, I'm not sure what the broadcaster could say at that point. He's not exactly in a hair-holding position.