June 12, 2012
| Team | 1 | 2 | 3 | 4 | 5 | 6 | 7 | 8 | 9 | R | H | E |
| --- | --- | --- | --- | --- | --- | --- | --- | --- | --- | --- | --- | --- |
| Red Wings | 0 | 0 | 0 | 0 | 0 | 0 | 0 | 0 | 0 | 0 | 4 | 1 |
| Indians | 0 | 6 | 1 | 0 | 1 | 2 | 6 | 0 | - | 16 | 17 | 1 |
W: Wilson (5-4) L: Maloney (0-2)
Since 75% of major league baseball was taking the night off last night, and since Mondays are dollar menu night at Victory Field, I used the opportunity to support my local Indianapolis Indians.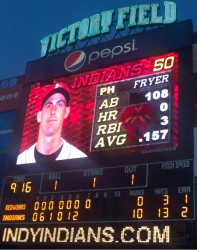 Justin Wilson started the night for the Indians. In 7.0 innings, he allowed 0 runs on 4 hits and no walks. He recorded 6 strike-outs. Evan Meek took on the other 2.0 innings and allowed 0 runs on 0 hits. He struck out 1.
On the offensive side, 12 different guys scored runs. These 8 guys had the RBI:
Gorkys Hernandez
Eric Fryer
Starling Marte, 2
Jose Morales, 3
Yamaico Navarro, 3
Brandon Boggs, 2
Jeff Larish
Tony Sanchez
This was the largest every shutout in Victory Field history, but lest you think it was a fluke, know the Indians had beaten the Red Wings 8-1 on Sunday. Looks like the Pirates either have some good talent on the way, or the Twins have a shallow farm system. In fact, it's probably both, but watch out for the Pirates in the next few years.
The win brings the Indians' record to 37-27. They lead the International League West by 7 games. Tonight they go for the sweep; first pitch is at 7:05 p.m. It's Two-for-Tuesday night: get two tickets for the price of one with a ticket from any area McAlister's Deli location
Updated at 10:40 a.m. to correct the affiliation of the Red Wings from Washington Nationals to Minnesota Twins. Thanks to our unofficial fact checker, @melmgoodwin.