June 14, 2012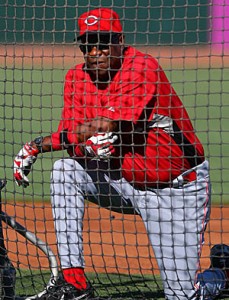 Cincinnati Reds manager Dusty Baker has responded to what Derek Lowe said last night.
"He had some words for me. I really didn't want to make a public thing or a public spectacle. He's the one who brought it up. He had some choice words for me. I really don't care if he respects me. It doesn't matter.

"No. 1, you've got to ask him why he hit Joey Votto in the back two years ago. Yesterday, he took exception to a ball inside that didn't hit him, then hit Brandon Phillips after that.

"I'm not denying nothing. I didn't order anyone to hit him. I told (Mat Latos) to buzz him and make him uncomfortable. That's what happened. Nobody hit him. Then he hit our guy.

"What he was talking about was something that he said and did a few years. You got to ask him what that was. You got a lot people involved in the situation that didn't need to be involved in the situation. It didn't come from there.

"Go ask him since he made it public. Understand what I'm saying. I'll let it rest at that since he's such a big man running his mouth talking about himself."
Apparently, a reporter pressed Baker on the issue a little more, and Baker found a little more to say.
"Man, I don't care," Baker said. A lot of people don't respect me. He don't respect himself. The word was whatever he did and said probably there was a good chance he was drinking at the ballpark and he don't remember what he said or what he did. OK.

"When he said I shook my finger at him to say I didn't have nothing to do with it. It wasn't to say I didn't have anything to do with it. It was to say: Don't mess with me or my team. That's what that means. He better learn sign language. OK."
All right. Lowe hates Baker and will throw at his players. And the feeling is mutual from Dusty. Also, Baker accused someone–maybe Lowe–of being drunk while at work. Everything is clear as mud.
It's interesting to see Baker fired up like this. Usually, he's a very laid-back, cool guy. Something happened that royally pissed him off, though, and he can apparently hold a grudge.