June 14, 2012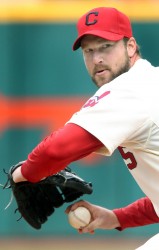 After last night's game between the Cincinnati Reds and Cleveland Indians, Indians starter Derek Lowe shared his feelings on Reds' manager Dusty Baker.
Lowe exploded with an expletive-laden rant about a pitch that Mat Latos threw to him when batting in the fifth that was up and in.
"Dusty will deny it. It has everything to do with him," Lowe said. "You can go ask him. He'll deny it like he has no idea. They've been trying to do this [stuff] for years. I'd always come up with men on base. To say it didn't come from Dusty, Mat Latos was with the San Diego Padres the last four years. He has no idea what's going on. Again, you can ask him and he'll say he doesn't know [anything] about it like he always does. This goes back to my last year with the Dodgers [in 2008]. He made up some [bogus] story. A lot of people got involved. People almost got fired over it. You can go ask him right now and he'll say he has no idea what you're talking about. But just watch the game. Mat Latos has nothing to do with anything that has gone on. How would he know? Why in the [world] would you throw a 96 mph fastball, first pitch, inside to a pitcher? Ask him.
Feel free to replace "[stuff]", [anything]", and "[bogus]" in the quote with the likely swear words uttered by Lowe. I'm feeling "shit" was the likely word of choice.
Sure, Tony LaRussa and Baker never got along, but this is the first time something between the Dodgers, Lowe, and Baker has been made public.
"A lot of people knew about it," Lowe said. "I have zero respect for the guy — not that it matters. I imagine he'd say the same about me. But the [stuff] that was being said and the denials that he ended up ultimately doing was pretty sad. I'll just leave it at that."
I have no idea what to think of this. But it's clear that Lowe is not "trusty in Dusty." If nothing else, it'll make for some interesting questions to be asked of Baker before today's afternoon game begins.