June 22, 2012
While some teams have been bitten hard by the injury bug, the Reds (knock on wood) have only had a light nibble so far this year. But there are a few guys to keep up with.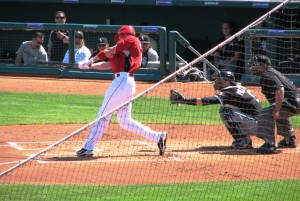 Drew Stubbs, the speedy center fielders who has conscientious objections to ever shortening his swing, has been out longer than anyone expected with that strained left oblique. He became eligible to come off the DL yesterday, but there's no need to hurry, even considering the way the team played in Cleveland. Instead of rushing straight back to Cincy, he's taking a rehab assignment in Dayton starting tonight for an unspecified amount of time.
Now that Scott Rolen is back from his injury, Todd Frazier has been displaced at third base. Frazier can play the outfield and his performance at the plate has made him worthy of finding a line-up spot for. However, the outfield is already taken care of and it's only going to get more crowded when Stubbs comes back.
Bill Bray, the left-handed pitcher you'd like to forget was ever part of The Trade, is on rehab assignment with the Louisville Bats. On Wednesday he pitched a scoreless inning, so that seems like good news. Unlike the Stubbs situation, there is room for a fresh lefty arm, especially with the way Aroldis Chapman's been getting beat up lately.
It seems funny to bring up now, but early on the two big arguments against Chapman starting were 1) his innings limit would end before the end of the season (implying that maybe they'd move him to a starter role later on in the year) and 2) the bullpen was short of leftys. With Bray due to come back any time now, I wonder if the Chapman-as-starter conversation will start back up.
Nick Masset, the right-handed reliever who's been watching from the stands since the season began, continues strengthening and getting season-ready. Two weeks ago he was throwing 60-70 throws per day, but getting from that to bullpen isn't a short trip. Maybe we see him after the all-star break (which is sneaking up on us, btw).
Which is really the end of it. Ryan Madson, the closer who signed a one-year deal then got himself injured Tommy-John's-surgery-style during spring training, is on the list, but there isn't much to say about a guy wiho will likely never take the field in a Reds uniform.