June 25, 2012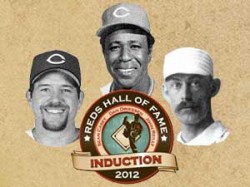 This weekend was the big Reds' Hall of Fame induction gala when the Reds welcomed three first basement of various eras to the hallowed halls of its HOF:
Sean Casey played with the Reds 1998 – 2005
Dan Driessen played with the Reds 1973 – 1984
John Reilly played with the Reds 1880 – 1891
That last one must be the "museum" part of "Reds Hall of Fame and Museum." I don't know the era well enough to know whether his numbers were actually any good, but at 6'3″ in the 1880s it's little wonder they called him "Long John." He must have been quite a beast.
Plenty of folks had an up-close view of the gala, and it sounds like it was a zany-fun time. Check out some of these posts to help take your mind off last night's game:
My personal thought about the induction, though, is a little different than the others. What I notice is that if Casey were on the roster today, he wouldn't even be the oldest one: Miguel Cairo has his beat by two months.