June 29, 2012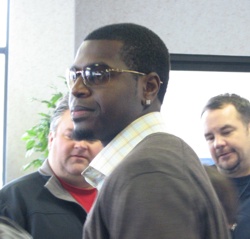 Brandon Phillips, who turns 31 today, was a late scratch from the Reds' line-up tonight against the San Francisco Giants. He's still not 100% after Aramis Ramirez kneed him in the head while getting caught stealing in the third inning of last night's game.
Phillips was on the line-up early in the day and went to AT&T Park to take batting practice and fielding practice. He described himself as "OK," but an infielder needs to be pretty darn sharp or risk getting a line-drive to the skull, so Baker put in Miguel Cairo instead.
According to John Fay's blog, Phillips did admit that the possibility that he has a mild concussion has been discussed. But in true BP style, he's not letting it get him down:
To tell the truth, that word came up yesterday. I'm trying to stay positive. I've never felt like this before…It's my birthday and I'm happy.