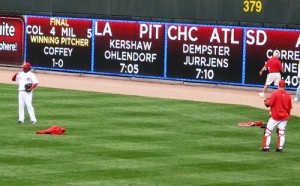 Last Game
The Reds yesterday started a series with the Phillies, and it didn't go so well. Johnny Cueto was rolling right along, but then suddenly, with 2 outs in the bottom of the fifth, he gave up a couple of singles and then a home run to Jimmy Rollins. Those 3 runs were all the Phillies would need, but they ended up with one more to win 4-2.
Next Game
Today the Reds try to bounce back. Mat Latos (RHP, 11-4, 3.79 ERA) defends against Kyle Kendrick (RHP, 8-9, 4.01 ERA). Both guys are doing well lately, so it ought to be a hard-fought contest. First pitch is at 7:10 p.m.
Record Perspective
The Reds' loss yesterday combined with the Cardinals' win brings their lead in the NLC down to 8.5 games. They've played 2 more games than the Nationals and lost both of them, so they no longer have the best record in baseball, either.
It's hardly the brink of disaster, I suppose, but it's kind of hard to get excited about taking 2-of-3 from the Astros when you're used to the team setting the world on fire.
Here's something to help you keep a little perspective: if the Reds play .500 baseball for the rest of the season, the Cardinals would have to go 22-5 just to tie. The Pirates would have to go 25-3.
What to Say to Sound Smart at the Water Cooler
Reds' Rookie of the Year candidate (one of them, at least), Todd Frazier has a 26-game hitting streak going. Two more games, and he'll tie Joey Votto's 28-game hitting streak from earlier this season.
At this rate, he'll beat that record before Votto returns to the line-up.