September 10, 2012
| Team | 1 | 2 | 3 | 4 | 5 | 6 | 7 | 8 | 9 | R | H | E |
| --- | --- | --- | --- | --- | --- | --- | --- | --- | --- | --- | --- | --- |
| Astros | 1 | 0 | 3 | 0 | 0 | 1 | 0 | 0 | 0 | 5 | 12 | 0 |
| Reds | 0 | 0 | 0 | 1 | 0 | 0 | 0 | 0 | 0 | 1 | 5 | 0 |
W: Gonzalez (2-0) L: Cueto (17-8)
The Reds finished off the series with the Astros last night by losing by the same score they won by on Saturday. That loss made for another losing series for the Reds and minor slippage to 8.5 games in the lead of the NLC.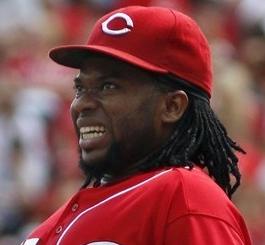 It was Johnny Cueto on the mound, and he had a stinker of an outing. He worked 4.0 innings, during which he allowed 4 runs on 9 hits and a walk. Blerg. That's the second time in a row he's had a poor outing. What's up with this guy?
On the bright side, young Tony Cingrani performed well in long relief. He bailed Cueto out for the next 3.0 innings. He did allow 1 run on 1 hit, but he also struck out 5. Fans who suffered through this game got pizza and ice cream! Yay!
Logan Ondrusek and Jose Arredondo finished the game off with a 1-hit, 0-run inning apiece. That's pretty much what we expect from those guys these days.
The Reds' 1 RBI belongs to–whom else–Jay Bruce, who hit a triple in the bottom of the fourth to bring in–who else would be on base–Joey Votto. Bruce and Votto were the only ones to get on base more than once yesterday. The only surprise here is that Dusty Baker actually let 2 lefties hit next to each other in the line-up. That's a sadly comment sentiment for these game wraps lately.
The loss brings the Reds' record to 84-57. Obviously the losing didn't matter in the scheme of things, but it was still no fun to watch. Tonight the Reds open a series against a foe they might find more worthy of rising to: the Pirates. Mat Latos (RHP, 12-4, 3.69 ERA) will try his hand against the infamous Wandy Rodriguez (LHP, 3-4, 3.50 ERA). First pitch at 7:10 p.m.