September 12, 2012
| Team | 1 | 2 | 3 | 4 | 5 | 6 | 7 | 8 | 9 | R | H | E |
| --- | --- | --- | --- | --- | --- | --- | --- | --- | --- | --- | --- | --- |
| Pirates | 1 | 0 | 0 | 0 | 0 | 0 | 2 | 0 | 0 | 3 | 11 | 1 |
| Reds | 1 | 3 | 0 | 0 | 0 | 0 | 0 | 1 | - | 5 | 9 | 0 |
W: Leake (8-9) L: Correia (10-9) S: Broxton (24)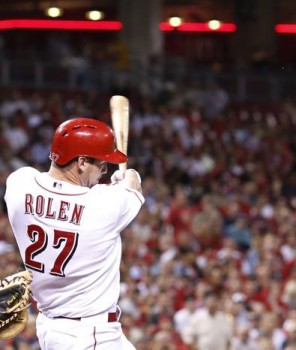 The Pirates scored first in last night's game, in the top of the first. That was the last time the Pirates would lead in the game, as the Reds tied it up in the bottom of the first, took a commanding lead in the second, and tacked on an insurance run in the eighth.
Mike Leake started for the Reds and he was good. He pitched 7.0 innings, allowing 3 runs (earned) on 9 hits and a walk. Well, actually, he allowed 3 runs on 2 home runs. That's the risk you run in Great American Ball Park.
Logan Ondrusek got one guy out in the eighth, and then Sean Marshall finished it off. Jonathan Broxton took on the ninth with Aroldis Chapman resting his fatigued shoulder that had him pitching so uncharacteristically badly earlier this week. None of those guys earned a run, as is becoming expected of our bullpen.
It was so much more fun to see the Reds' offense actually participating in the game for a change. Brandon Phillips not only hit the solo shot in the first to match the Pirates' score, but he also hit in the team's second run in the second. He went 2-for-4 on the night with 2 runs scored.
Scott Rolen got the Reds' other RBI with his solo shot in the eighth inning. The other two runs scored in the second on a wild pitch and a throwing error. MLB isn't letting me embed this particular video, but you can see the video of the wild pitch and throwing error on MLB.com.
The win brings the Reds' record to 86-57 and the magic number to 10. They go for the sweep of the Pirates tonight. Homer Bailey (RHP, 10-9, 4.03 ERA) takes on A.J. Burnett (RHP, 15-6, 3.68 ERA) at 7:10 p.m.