September 27, 2012
| Team | 1 | 2 | 3 | 4 | 5 | 6 | 7 | 8 | 9 | R | H | E |
| --- | --- | --- | --- | --- | --- | --- | --- | --- | --- | --- | --- | --- |
| Brewers | 0 | 0 | 3 | 0 | 0 | 1 | 2 | 1 | 1 | 8 | 13 | 0 |
| Reds | 1 | 0 | 0 | 0 | 0 | 0 | 0 | 0 | 0 | 1 | 6 | 0 |
W: Marcum (6-4) L: Arroyo (12-9)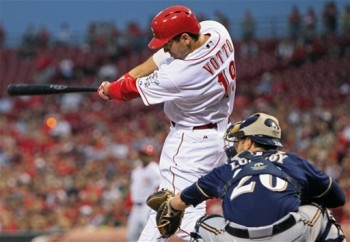 The Reds have already clinched and may be better off with the #2 seed than with the #1 seed. Meanwhile, the Brewers have to have a really spectacular showing the rest of the season to have a chance to sniff the second wildcard bid to the post season.
And it showed last night.
Bronson Arroyo had his worst outing in a long, long time. He worked 6.0 innings and allowed 4 runs (earned) on 8 hits and a walk. The bullpen was even more surprisingly bad. Logan Ondrusek, Sam LeCure, and Alfredo Simon each pitched and inning and each allowed 1 or more runs (Ondrusek allowed 2). Very weird.
Of course, it didn't look like it was going to turn out this way at first. The Brewers made the mistake of not walking Joey Votto in the first inning, and he promptly doubled in Zack Cozart. That lead held until the third inning, but it would turn out to be all the offense the Reds were going to get. The Brewers wised up and walked Votto twice after that.
The loss brings the Reds' record to 93-62. They are playing the rubber game with the Brewers even a I type this. Mat Latos faces off against Wily Peralta.