September 24, 2012
| Team | 1 | 2 | 3 | 4 | 5 | 6 | 7 | 8 | 9 | R | H | E |
| --- | --- | --- | --- | --- | --- | --- | --- | --- | --- | --- | --- | --- |
| Dodgers | 0 | 1 | 0 | 0 | 0 | 0 | 4 | 0 | 0 | 5 | 8 | 1 |
| Reds | 0 | 0 | 1 | 0 | 0 | 0 | 0 | 2 | 0 | 3 | 6 | 1 |
W: Tolleson (3-1) L: Bailey (12-10) S: League (14)
The Reds didn't look so good in their first post-clinching game last night. It was the deciding game in the 3-game series against the Dodgers and it was a 5-3 loss.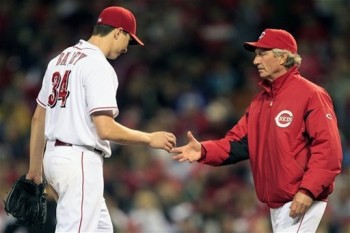 Homer Bailey was actually looking pretty good for the majority of his time on the mound, especially considering it was a home game (which are never his best performances) and especially considering that he had the JV team behind him.
He allowed only a solo shot through six innings, but then the seventh happened: another solo shot, a couple singles, an error on a sacrifice bunt play, and a walk, and suddenly Bailey's night was over. Jose Arredondo held 'em scoreless in the rest of the seventh and eighth, and J.J. Hoover did the same in the ninth, but the Reds offense wasn't up to the task.
I guess it's kind of hard to fault the Reds for resting some of their guys about now. And it's nice that Wilson Valdez, Miguel Cairo, and Denis Phipps get to see the field. Drew Stubbs and Chris Heisey even got to take the field at the same time. (Take that all you people who insisted they were actually the same person!)
And it wasn't lack of baserunners that undid the team this time. The Reds were outhit 8-6 by the Dodgers, but they also drew 7 walks. Unfortunately, 3 of those were to Joey Votto, which is probably among the reasons the Reds were outmatched in this game. It's such a bummer to see that strategy be so effective, isn't it?
The loss brings the Reds' record to 92-61. They are already the owners of the first place position in the NLC, may actually do better to get the second seed in the play-offs, and might prefer to see their upcoming opponents challenge for the wildcard, so…these last 9 regular season games might not be that fun to watch.
They take the day off today and are back at it tomorrow when they host the Brewers. Johnny Cueto (RHP, 18-9, 2.84 ERA) takes on Mike Fiers (RHP, 9-8, 3.38 ERA). First pitch at 7:10 p.m.