September 3, 2012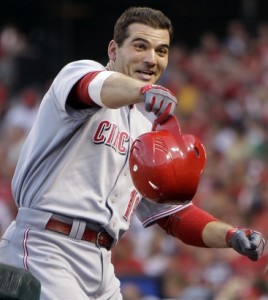 By this time, Reds fans have heard that injured first baseman Joey Votto made another rehab appearance today, this time in the season-ending game for the AAA Louisville Bats.
Votto went 0-3 with 2 strikeouts, in case you were wondering. He is still expected to rejoin the Reds on Tuesday, which makes sense. The season is over for the minor leagues, so there's not anywhere else for Votto to go.
Of course, he might be with the team, but there's still no news on when he might be activated from the disabled list. And really, that's all that fans care about.
On the one hand, I'm very happy with how the Reds have responded to Votto's absence.
The Reds are 32-15 since Votto last played. That is the second best record in the majors in that span.
But on the other hand, I really miss him in the lineup. At this point it seems like the team is ready to have him back whenever, but Votto doesn't feel like he's comfortable returning. I do want him confident in his ability to help the team, and I'd hate to see him hurt himself returning before he felt ready. Manager Dusty Baker has an excellent point on that.
"We don't want a (Lance) Berkman situation like in St. Louis, where he goes back on the DL or something happens. We want him right, and we have a bit of a luxury the way guys are playing now where we don't have to rush him back."
Everybody wants him back in the lineup as soon as he's ready, but the most important thing is to have him back, healthy and ready to dominate in the playoffs. That and seeing the fastest ascension of a player ever from A-ball to AAA to the majors.