September 16, 2012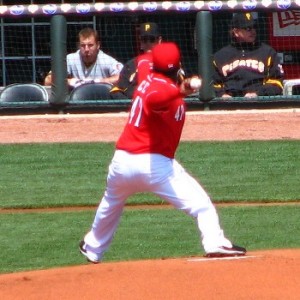 After Johnny Cueto's string of bad starts–the most recent being Saturday's loss to the Marlins–the Cincinnati Reds announced that the order of the rotation is going to change.
Oddly, though, instead of getting rest, Cueto has moved up a day in his position.
Instead of Mike Leake, Homer Bailey, Bronson Arroyo, Johnny Cueto and Mat Latos, it's now Bailey, Leake, Cueto, Arroyo and Latos.
John Fay speculates that the shuffling will set the postseason rotation as Cueto, Arroyo, Latos, and Bailey. Separating the two hard-throwing starters of Cueto and Latos with the soft-tossing Arroyo makes a lot of sense. Those are the four guys likely to get starts during the playoffs, so it's not a stretch to assume it's true.
However, I'm surprised to see Cueto not getting another day of rest. Before the switch, Cueto would've had 6 days of rest between his starts. Now he'll have 5. While it is one more day off than normal thanks to the off day Monday, given how Cueto's struggled this month, it wouldn't be a bad idea to give him more rest. At 197 innings pitched, he's 11 1/3 innings past his previous high in 2010. Some fatigue from all that isn't surprising.
It'll be interesting to see how Cueto performs on his next start. I expect the Reds will be watching his inning and pitch count closely. And once the division is clinched–their magic number is 5–I expect all the starters will get some rest.