Last Game
The Reds won the series opener against the Pirates last night, 3-4, in 14 innings. This was a more exciting one to watch, with the team tying it up in the seventh, but it was also frustrating that they couldn't get one more guy across the plate until the 14th.
The Reds' inability to string together hits for runs is annoying, but it's been a problem that's haunted the team all year, from time to time. Aroldis Chapman's inability to strike guys out, on the other hand, is a new problem and entirely more scary.
Chapman issued 3 walks in his 0.2 innings of work last night. He had to be removed in the middle of an inning for the first time all season. Even worse, this was his second poor outing in a row. His velocity was down and his control was all over the place. Apparently the medical staff is saying he's got a fatigued shoulder. With just 20 more games left in the season, we'll all be hoping there's time for that shoulder to get rested up.
Next Game
Today is Mike Leake's turn to try to inspire some run support from the Reds offense. He ought to be well-rested after his last outing, which lasted only 2.1 innings last Wednesday. Leake (RHP, 7-9, 4.73 ERA) faces off against the Pirates' Kevin Correia (RHP, 10-8, 4.28 ERA)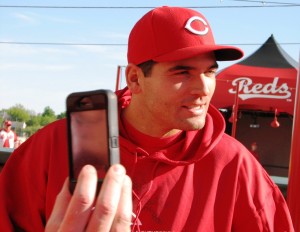 Yesterday was Joey Votto's 29th birthday
Just 29 years old and Joey Votto is already a mega-millionaire at the top of his field. He's popular, in great shape, and easy on the eyes, to boot.
Jeez, what have I been doing with my life?
What to Say to Sound Smart at the Water Cooler
In the game against the Astros on Sunday, LHP Tony Cingrani made his major league debut by pitching 3.0 innings in relief of Johnny Cueto and his short start. With that appearance, Cingrani became only the second pitcher in Reds' history to strike out 5 in his major league debut.
Hopefully Cingrani's auspicious start will serve him better than the first guy to do it, Angel Torres. Torres pitched only 8.1 innings his entire major league career.