Last Game
The Cincinnati Reds had Monday off. The St. Louis Cardinals were also idle, so the Reds' magic number remains at 5.
Next Game
The Reds travel to Chicago to start a 3-game series with the Cubs. Homer Bailey will start against former Red Justin Germano at 8:05pm.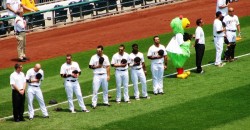 Scheduling Note
There's another television conflict for the Reds game on Wednesday with the Columbus Crew soccer game.
If you're in Lima or Columbus and hoping to catch the Reds game, you're going to want to check out the alternate channel information on the channel finder.
What to Say to Sound Smart at the Water Cooler
Wednesday is Talk Like a Pirate Day. Everyone say, "Clint Hurdle needs to walk the plank."