Last Game
The Reds opened the series in Chicago with a 3-1 win over the Cubs last night. Homer Bailey put in a nice performance for his 12th win of the season.
Ryan Hanigan was the offensive hero of the night with a bases-clearing double in the sixth inning to score all 3 of the Reds' runs. The TV broadcast had Hanigan on after the game, and it's impressive how articulate he sounds compared to some of the other players.
The record is 89-59 and the magic number is 4.
Next Game
The Reds continue the series with the Cubs tomorrow at 8:05 p.m. The Reds will send out Mike Leake (RHP, 8-9, 4.69 ERA) to face off against Chris Rusin (LHP, 1-2, 5.06 ERA). Young Rusin is being limited to about 80 pitches per outing, so we're likely to get a nice tour of the Cubs' bullpen tomorrow night.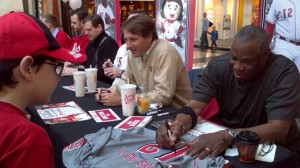 Dusty Baker's 3000th Game as Manager
Yesterday, Dusty Baker logged his 3000th major league baseball game as a manager. He's played:
1556 games as manager of the Giants
648 games as manager of the Cubs
796 games as manager of the Reds
As disastrous as he was with the Cubs, it was sort of amazing at the time that he managed to land another 800 games, but memories are short and the Reds are winning now. And he does have a winning record, at 1572-1426-1.
According to Reds.com, Baker was quoted as saying, "I'm a daily person. Everybody wants to achieve things. I'm just glad that out of the 3,000 games, I've won more than lost. I've still got quite a few games left in me."
The guy does have a real good way with the players, which, in the big picture, is probably more important than some of the things he's weaker at, like writing line-ups, making in-game decisions, and not giving playing time to Corey Patterson.
What to Say to Sound Smart at the Water Cooler
Aroldis Chapman will throw a bullpen session today. He hasn't pitched since since September 10.