Last Game
The Reds clinched a playoff berth yesterday when they swept the Cubs. Johnny Cueto broke his losing streak by pitching 6.0 innings and allowing 0 runs on 5 hits. He also walked 4, which isn't very good, but I like the shut-out part.
Next Game
Tonight the Reds return home to host the Dodgers. Bronson Arroyo (RHP, 12-8, 3.74 ERA) will take the mound against Joe Blanton (RHP, 1-4, 6.07 ERA). Like Cueto yesterday, Arroyo today is hoping to bounce back from a rough outing his last time out. First pitch at 7:10 p.m.
The Cardinals play a day game tomorrow in Chicago. If they lose, the Reds will be playing to clinch the division tomorrow night. I wonder if tickets are going to be scarce this weekend.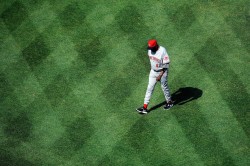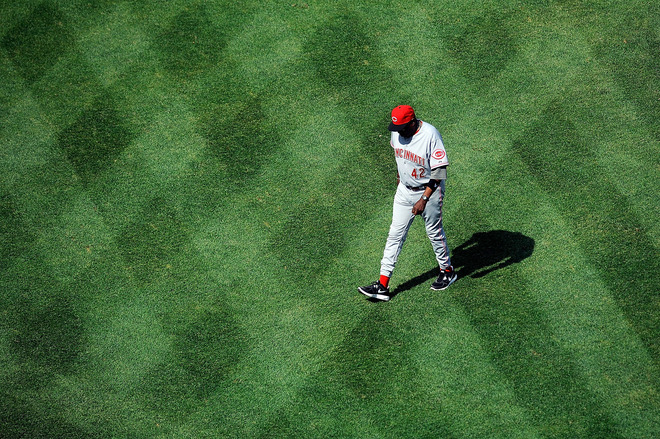 Baker undergoing further tests
Dusty Baker missed Wednesday night's game to go to the hospital for chest X-rays. He thought he might have pneumonia.
He apparently did not, but stayed in the hospital anyway to have an irregular heartbeat checked out. No official word yet on the test results, but according to Reds.com, Walt Jocketty saw him in the hospital:
"He looked good, very good. He was in good spirits. He seemed to be feeling good," Jocketty said.
Bench coach Chris Speier filled in for Baker Wednesday and yesterday, and apparently will today as well. Baker does plan to be on-hand, just in case the team celebrates clinching the division. John Fay says not to expect any champagne showers, though:
The Reds didn't whoop it up at all after the game, despite clinching at least a Wild Card spot….I'm guessing the celebration for clinching the National League Central will be a lot more subdued than in 2010.
What to Say to Sound Smart at the Water Cooler
One for the heartbreaking file: with their loss last nigth, the Pirates are under .500 for the first time since May 29 when they were 24-25. Poor Pirates. I really enjoyed seeing them as a legitimate contender this season.