Last Game
The Reds took last night off, so they should be all rested and ready for action tonight. I'm sure we won't see any big stars on the bench, right?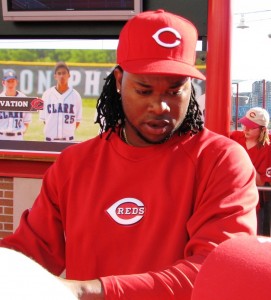 Next Game
The Reds open a three-game series with the Brewers tonight at Great American Ball Park. Johnny Cueto (RHP, 18-9, 2.84 ERA) takes on Mike Fiers (RHP, 9-8, 3.38 ERA). First pitch at 7:10 p.m.
Cueto had been having a rough time of it for a while there, but he was looking pretty good in his last start against the Cubs. If he can win his remaining 2 starts, he still has a chance of getting to 20 wins for the season.
If you were worried about Baker's win-loss record, you can rest easy
John Fay says that the last five games that Dusty Baker has missed will still be attributed to his win-loss record.
Baker went to the hospital while the team was in Chicago, thinking maybe he had pneumonia. He didn't, but did end up admitted and stuck there for the next several days after the doctors noticed an irregular heart beat. He finally came back to Cincinnati last weekend, but there's still not official word on whether he'll be back to his managing duties today.
The organization has said very little, he hasn't been available for interviews, and even his visit to the clubhouse was just long enough to get a hug and a "howyadoin'?" from each guy before he was back home resting. It's kind of ominous, actually. I hope everything's OK.
With no one talking, though, there's not much for us to do but think about things like the career of bench coach Chris Speier, who's been filling in. Speier, though, isn't the one who get ultimate credit for these games; they still count toward Baker's record. Even games during which the manager is serving a suspension do, which is funny, since a pitcher who missed a start while serving a suspension wouldn't get credit for it. They must think that the manager of record casts a long shadow over the clubhouse, even when he's not there. And, I suppose, Baker probably does.
What to Say to Sound Smart at the Water Cooler
The 2012 Reds are only the 15th team in Major League history to have at least 6 pitchers with at least 100 strikeouts apiece. If you're wondering who the 6 guys are, they are the starting rotation and Aroldis Chapman. Yes, even Mike Leake is rocking over 100 Ks.
Sean Marshall is the next closest pitcher on the Reds roster right now. He has 73.