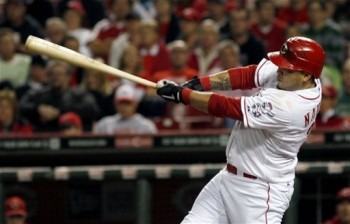 Last Game
After their day off on Monday, the Reds won the series opener with the Brewers, 4-2, last night. It got Johnny Cueto his 19th win of the season (so 20 is still a possibility) and got Aroldis Chapman his 36th save (his first since he's been back from that arm weakness). Dioner Navarro went 2-for-3 with 2 RBI.
Next Game
The series continues tonight at 7:10 p.m. Bronson Arroyo (RHP, 12-8, 3.63 ERA) takes on Shaun Marcum (RHP, 5-4, 3.86 ERA). Marcum has done well since returning from the DL, but Arroyo has been on-freaking-fire for the last month plus. He's allowed only 1 run over 8 innings his last time out, against the Dodgers on Friday.
Get Well Soon, Dusty
The tight-lip-ness of the Reds about the condition of manager Dusty Baker seemed to indicate there was something big they weren't telling us, and that did turn out to be the case. As he was being discharged from the hospital in Chicago, he suffered a minor stroke and was treated on the spot.
Baker had been admitted to the hospital for an irregular heartbeat, and apparently small strokes aren't uncommon in people who have that condition, so the folks at the hospital knew to be on the lookout for it and responded promptly. He's expected to make a full recovery and may even be back to managing the team when they play the last regular season series in St. Louis.
Interestingly, another thing that's typical for people with Baker's condition is for them to retain water. The treatment apparently caused him to lose a bunch of water weight because all the guys who are being quoted in the stories are saying how good he looks. He hasn't met with the media since he's been in the hospital, so it'll be quite the unveiling of a slender Baker come the St. Louis series.
What to Say to Sound Smart at the Water Cooler
The last time the Reds had a 20-game winning pitcher was 24 years ago (1988) when Danny Jackson won 23 games. Johnny Cueto was 2 years old when that happened.