Last Game
The Brewers evened the series yesterday at 1 game apiece, beating the Reds 7-1. Bronson Arroyo turned in a crappy performance, allowing 4 of those 7 runs in his 6 innings. The bullpen brought gasoline to the fire with every reliever allowing runs, combining to let 4 more runs to score. The poor pitching was a disappointment after the Reds scored first in the bottom of the first thanks to a double from Joey Votto. But the offense managed no runs after that.
Next Game
The Reds will attempt to win the series today, sending Mat Latos out against Wily "Mo" Peralta. Latos had one of his best outings of the season in his last start, and has been competing with Johnny Cueto for being the best starter on the team since the All Star break. The game, which is the final regular season game at Great American Ball Park this year, starts at 12:35pm.
Cueto's chance of winning elite award relies on advanced metrics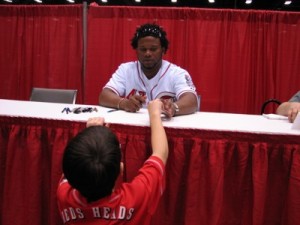 Cincinnati Enquirer beat reporter John Fay delved into statistics deeper than wins, losses, ERA, and strikeouts in an article about Johnny Cueto. With Cueto's struggles to get his 18th win–it took him 4 tries–his case for the Cy Young award based on gaudy win totals fell apart. But Fay, who will be voting for the award this year, doesn't think Cueto's out of the running and compares him to R.A. Dickey, Kyle Lohse, and Gio Gonzalez.
I decided to take a look at home-road splits for those four. If you factor in the Park Factor, Cueto deserves strong consideration. Of the aforementioned contenders, he pitches in the most hitter-friendly park, Great American Ball Park — or as Homer Bailey calls it "a Little League park."

GAPB yields the third most home runs in baseball and the ninth most runs. Nationals Park, where Gonzalez pitches, is 11th and 10th. Dickey's home yard, Citi Field, is 13th and 25th. Lohse's home park, Busch Stadium, is 20th and 18th.
It would be awesome to have Cueto pick up Cincinnati's first Cy Young. As Fay points out, Cueto does lead in Wins above Replacement (WAR) as reported by ESPN.com and Baseball-Reference.com and is second on FanGraphs.com. It would be a surprise pick, though, given the resistance to modern stats by so many of the other voters.
What to Say to Sound Smart at the Water Cooler
The Reds have 4 pitchers–Bronson Arroyo, Homer Bailey, Johnny Cueto, and Mat Latos–with at least 30 starts each and a 5th–Mike Leake–scheduled to make his 30th on Saturday at Pittsburgh. Only 7 staffs in Major League history produced 5 pitchers with at least 30 starts each: 1977 Dodgers, 1980 A's, 1993 Dodgers, 2003 Mariners, 2005 Cardinals, 2005 Indians and 2006 White Sox.