September 30, 2012
| Team | 1 | 2 | 3 | 4 | 5 | 6 | 7 | 8 | 9 | R | H | E |
| --- | --- | --- | --- | --- | --- | --- | --- | --- | --- | --- | --- | --- |
| Reds | 0 | 0 | 0 | 0 | 0 | 0 | 0 | 1 | 0 | 1 | 7 | 2 |
| Pirates | 0 | 0 | 0 | 0 | 0 | 0 | 1 | 0 | 1 | 2 | 8 | 0 |
W: Hanrahan (5-1) L: Broxton (4-4)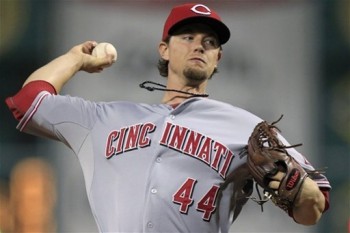 The Reds let the Pirates tie up the series last night when they lost 1-2.
After Homer Bailey's no-hitter the night before, Mike Leake kind of needed a perfect game and four hits to get himself into serious contention for the play-off roster. Unfortunately, he blew the perfect game on the second batter when Josh Harrison singled to center field. He did go 1-for-2 on the night, though, which is something.
Leake pitched 6.0 innings, surrendering 4 hits and 3 walks before his tenure was up. It was Jose Arredeondo who got credit for the Pirates' first run in the seventh inning. The Reds managed to tie it up in the eighth, and Logan Ondrusek held the Bucs during that inning. But alas, the Reds' offense couldn't come up with anything in the ninth, and Jonathan Broxton failed to send the game into extras when Andrew McCutchen, the second batter in the bottom of the inning, hit a home run to right field for the walk-off.
The Reds did have plenty of hits: 7 different guys each contributed 1 to the team's 7 hit total. Joey Votto also walked twice, of course, so that didn't help matters. Votto's protection for the night, Scott Rolen, was the one to hit in the Reds' only run though.
The loss brings the Reds' record to 95-63. They try to win the series this afternoon at 1:35 p.m. Johnny Cueto (RHP, 19-9, 2.83 ERA) will take his last chance for win number 20 when he faces off against Wandy Rodriguez (LHP, 5-4, 3.78 ERA).