June 25, 2013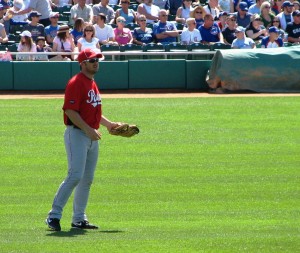 After almost two months recovering from a hamstring issue, Chris Heisey has been activated and is back in the lineup as the designated hitter against the Oakland A's tonight.
Heisey had been playing games with the AAA Louisville Bats for the last week, going 4 for 20.
"I felt really good at the plate," he said. "I didn't have the results to show for it, but I hit some balls hard. I saw a lot of pitches. I worked a lot of deep counts, which is something I want to get better at up here. It was a good little practice for me."
Donald Lutz was sent down to AA to make room for Heisey's return.
Heisey will be back, but the Reds will be without star second baseman Brandon Phillips, who was placed on the paternity list. I didn't know that was a thing, but it's apparently been there since 2011, added at the same time as the concussion list.
Players can miss one to three games, and Phillips is expected to miss the two-game series against the A's. Infielder Henry Rodriguez was called up from Louisville to take his place.