June 24, 2013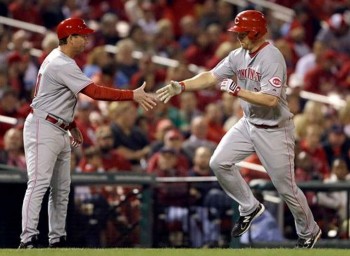 The third base coach for the Cincinnati Reds, Mark Berry, was diagnosed with cancer during spring training. The treatment for the cancer in his left tonsils and lymph nodes was so strong that it forced him to take a leave of absence from his duties with the Reds.
I'd been wondering how the treatment has been going, but there haven't been many updates. Reds beat writer Mark Sheldon took care of that today with a nice, in-depth profile of Berry's new life with cancer.
Berry decided against the more invasive surgery and opted for chemo and radiation. He hoped to work home games at night as the bench coach, since he would be getting treatments at University Hospital during the day time. Bench coach Chris Speier moved to the third-base line during camp.

The reality soon set in that it would not be possible for Berry to work at all.
The idea of trying to work in a professional sport while getting chemotherapy seems ridiculous in hind-sight. I'm glad that approach was quickly abandoned, allowing Berry to focus on nothing but getting better. And it sounds like the treatments have been effective.
While the treatments are over, the cloud of cancer is not gone from above Berry's head. He is scheduled to undergo a final PET scan on Sept. 4 to determine if the cancer is gone. If it's not, surgery would be a potential option.

Right now, things look good. The feeling of marbles in the lymph nodes is gone and Berry said a scope already showed doctors that the tumor had been greatly reduced. The burnt skin inside his throat is turning into new skin again.

"You want to be positive," Berry said. "Deep down, I think I'm going to beat it on the first go around, but there's always that little doubt."
I would recommend reading the entire article. Berry's gone through a terrible time, but it looks like things are improving for him. I do hope he gets to return to the third base coaching box later this season and gets to high five Reds players as they round third after a home run.