June 4, 2013
| Team | 1 | 2 | 3 | 4 | 5 | 6 | 7 | 8 | 9 | R | H | E |
| --- | --- | --- | --- | --- | --- | --- | --- | --- | --- | --- | --- | --- |
| Rockies (30-28) | 0 | 0 | 0 | 0 | 0 | 0 | 0 | 0 | 0 | 0 | 4 | 2 |
| Reds (36-22) | 0 | 0 | 0 | 1 | 0 | 0 | 0 | 2 | - | 3 | 9 | 0 |
W: Arroyo (6-5) L: Chatwood (3-1) S: Chapman (15)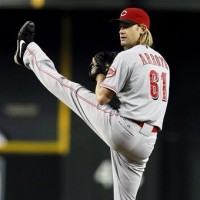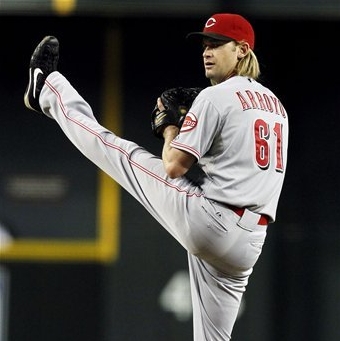 This may not be fair to Bronson Arroyo, but it felt like forever since good-rroyo had shown up to put down the Cincinnati Reds' opponent. Arroyo did that and then some this time against the Colorado Rockies, throwing 8 innings of shutout baseball to improve his record to 6-5.
In his 8 innings, Arroyo allowed 4 hits and struck out 3. After he was finished, Aroldis Chapman came on to pitch the 9th. Chapman was solid, walking one and recording 3 strikeouts to pick up his 15th save.
On the scoring side, the game was a pitcher's duel. Until the 4th, the game was a shutout. However, in the fourth with two outs, Jay Bruce singled, continuing his improved May hitting into June. After Bruce stole second base, Todd Frazier singled to drive in the only run the Reds would need for the entire game.
Bruce added some insurance runs in the 8th with his 9th home run, driving in Zach Cozart. After that, there was no doubt about it. The Reds won, erasing that last loss to the Pirates from the fans' memory and keeping pace with the first place St. Louis Cardinals.
The Reds go for the series win today when they send Homer Bailey out against Juan Nicasio.