September 4, 2005
Just two days after I gave the Bats accolades for being the only team around who could pull together a late-inning rally, the Reds demonstrated their own abilities in that arena when Austin Kearns gave the Reds the lead in the twelfth inning, followed by Jason LaRue's pinch-hit grand slam to end the extra-inning madness with a Redlegs' win, 8-3.
I heard only the extra innings of today's game on the radio while I was out running errands like crazy on my holiday weekend. However, I did witness the very last home game for the Indianapolis Indians on Saturday night live and in person at Victory Field, as they lost 0-2 to the Louisville Bats.
Jimmy Serrano took the mound for the Bats, and despite the fact that I felt like he was constantly on the edge of losing it, my notes indicate he struck out six and walked three as he held the Indians scoreless through his five innings. Serrano touched 90 mph maybe once or twice, but we saw a whole lot in the middle 80s as he kept the Indians down, apparently with his hypnotic style and finesse.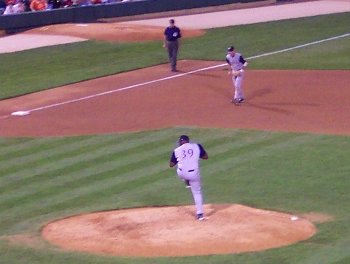 Next was the treat of Allan Simpson in the sixth and seventh. It must have been a pretty big shock for the Indians to suddenly be on the receiving end of pitches in the mid-90s and ending up who-knows-where. In the sixth, Simpson walked two and struck out two before getting Jose Bautista to fly out to deep center field to end the inning. Simpson saw much more contact in the seventh with a couple infield outs, a single baserunner, and a fly ball to deep left field to finish out his evening.
Tom Shearn, whom I'd never heard of before and whom I did not actually see play because I was standing in line with Winter to spin the wheel and win a replica plastic bat larger than the child himself, took over in the eighth to retire three of four batters. Shearn was followed immediately by Chris Booker who likewise retired three of four to end the game 0-2 in the Bats' favor.
Today, the Indians went on to defeat Toledo 7-3 with a four-run 10th inning to clinch a post-season berth, but we'll be seeing a lot of the Bats a lot sooner than Pittsburgh will be seeing their counterparts. Which is a good thing for the Reds, who are going to need all the help they can get if they're going to continue pulling off these late-inning rallies.