June 19, 2006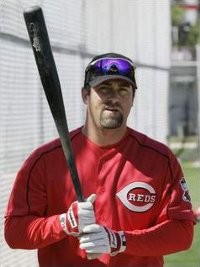 Rich Aurilia is the Reds' utility infielder, veteran prescence, and about the only guy on the team who can hit with runners in scoring position.
He came on with the Reds in 2005 when he displaced Felipe Lopez at shortstop and earned the hatred of many Felipe zealots. When he was injured a month into the season, Felipe got his chance to prove himself at short, did so, and was soon the Reds' All-Star representative at the position. To this day you cannot convince most of the zealots that the month of fighting for his position might have helped Lopez, though most of them have stopped actually growling about Aurilia now.
Finding himself without a position and possibly not yet acclimated to the midwestern ballplayer-should-be-seen-and-not-heard culture, Aurilia complained a little to the media about his lack of playing time. This got the zealots even more riled up, though, if pressed, most of them will agree that there's nothing really wrong with wanting to play.
The Reds declined Aurilia's option after the 2005 season and he became a free-agent. There wasn't broad interest in his services, though, which is mad. Not that I'm saying he should have commanded $6 million or anything, but the Cardinals passed him over to pay Junior Spivey $1.2 million. And he's now in AAA Memphis.
So when the Reds came offering $1.3 million with an option for 2007, Aurilia signed back on. He has come into the 2006 season with the understanding that he's going to have to move around to get playing time, and he's done that very well. He's gotten a lot of his playing time at first base, where he lends more agility than you usually get from your first baseman. One of the benefits of having a former shortstop play there, I reckon.
In the line-up, Aurilia often bats clean-up, which has more to do with splitting up the Griffey/Dunn left-handed duo of power than with Aurilia's particular clean-up hitting suitability. Nevertheless, he always gives a solid at-bat, definitely has the potential to offer power, and actually comes through in the clutch. When the game's on the line in the late innings with men on, Aurilia's among the guys you want to see at the plate.
To read all about the statistical analysis of Aurilia's game, check out JinAZ's Better Know a Red feature.