September 27, 2006
Sunday was the day after Blogger Day in Cincinnati. We'd planned to make a weekend out of our trip all along, and it seemed like a convenient time to drop in on Ken Broo, who'd invited me to appear on his show Sports Rock earlier in the season. They were taping at 9 p.m.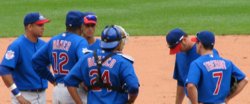 Technically, our fun on Sunday began with the midnight concert by the Screaming Mimes and our subsequent conversation with David Storm. The Screaming Mimes are a quality group with some really good music. I recommend you see them if you have the chance.
We walked back to our hotel and slept in as late as we could, which turned out to be about 10 a.m. Check-out time was noon, so we puttered around until then, packing up and getting ready. We checked our luggage with the bellman and headed to the game.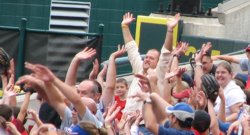 The crowd at the game was not large, but a couple women across the stadium did manage to get a wave started. Meanwhile, on our side of GABP, we were sitting in front of a couple cranky middle-aged women who cracked me up but irritated the CTS. For example, there was a long at-bat where one of the pitches was fouled back, but it didn't look like it'd hit the bat to the casual observer. The one woman told the other that it must not have counted as a strike because it would have been out of the zone if he hadn't swung.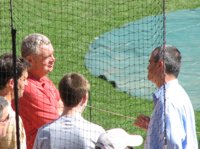 Bob Castellini was in attendance; it's so nice to know that he still cares. I'm not super-psyched that he witnessed Royce Clayton's big hit first-hand, but I guess stuff like that's just going to happen. Perhaps he could feel the vibe of how strange it was to be standing up, cheering McClayton on.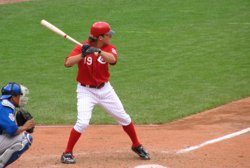 This time we were sitting on the first-base side, in section 128. It was fan appreciation day and they were giving away all this stuff. No kidding, at least three of the winners came from section 127, but not a one from 128. Plus, I was wearing my salmon-colored Reds shirt instead of my red one, so I couldn't be picked for the 1,000,000 Reasons to Wear Red contest. And I was so sure I'd be able to throw the ball through the 6″ hole.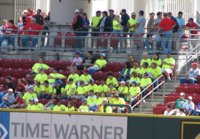 Speaking of wearing certain colors, remember the group that was sporting the particularly non-Cubs shade of blue on Blogger Day? They promised they'd be back the following day in lime green. And what do you know, here they are.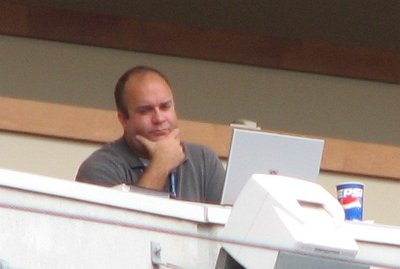 Just when you thought you were anonymous hiding in a building full of people, the Crack Technical Staff gets out his camera. I think CTS has a future in paparazzi photography.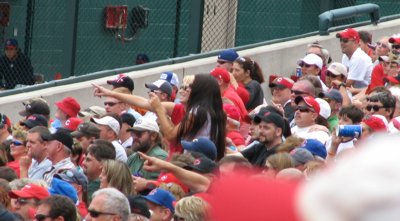 Anyway, the game didn't even take us to 5 p.m. We headed down to O'Malley's in the Alley where we ran into the same women who started the wave. They were so excited that we recognized them. They said they felt famous. We stuck around until we could endure no more "who dey" crap and then we headed back to the hotel.
We got our laptop from the bellman and surfed around a little while having dinner at the hotel restaurant. After dinner, we got someone to let us into the bathroom (you had to have a room key to open the doors, and let me tell you, this bathroom was not worth keeping under lock and key) so that I could change clothes and put on my make-up for my television appearance.
Finally, we decided that it was late enough that we were risking them charging us for a second night of parking, so we got our car, drove around until we found channel 5, and then looked for a bar where we could pass the next hour. We found ourselves at a dive called The Lab, which features not one but TWO large dogs running around, licking peanut skins off the floor and hoping someone would give them some beer.
At last it was time to go to the television studio. Ken Broo met us at the door. They were running behind, he said, so we actually watched the taping of the evening's episode of Sports Rock. It was pretty entertaining. I liked how the guys continued to talk about sports even during the breaks in filming. They're very dedicated to their jobs.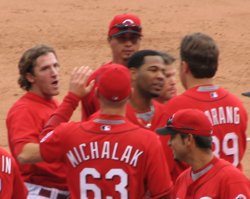 When it was time to film my short segment, I didn't know where to look, didn't know what to do with my hands, and I wasn't sitting quite close enough to the desk. I suspect I might have looked like an ass. But it is my first time ever in front of the camera, so I'm prepared to give myself a little slack. With practice, my television performances might not even make people cringe. I mean, look how far the podcast has come.
Finally, it was time to head home. And even though we wouldn't end up getting to bed until 2 am, we still had the buzz of a come-from-behind victory to keep us going. We can't wait until next year!